Immediate Ambulance Department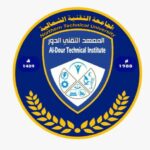 It is one of the new medical departments and was established in the academic year 2018/2019, the department receives students from the graduates of the preparatory school, the scientific branch (biology) only, and of both sexes, and it is considered one of the main outlets to provide hospitals and health centers with technical cadres in the field of immediate aid, being the most important in patient ambulance. Students are practically trained in specialized laboratories located at the institute in addition to training them in government hospitals under the supervision of specialized medical staff. The department contains specialized laboratories (M. Clinical Chemistry, M. General Chemistry, Laboratory Equipment, M. Parasites, M. Viruses, M. Laboratory Techniques, M. Histology and Anatomy, M. Immunology and Serum, M. Bacteriosis) in addition to other laboratories
Vision:
The Immediate Aid Department seeks to achieve excellence in education and scientific research, meet the requirements of society, and to access the latest scientific and technical developments and apply them in a way that allows upgrading the quality of learning in all fields. The department is dedicated to creating a supportive environment that provides students with opportunities to learn and thrive in pursuit of their future, and to graduate paramedics who are familiar with the smallest details of first aid and how to preserve the life of the injured, which qualifies them to work in health cadres with high efficiency.
Department Mission:
The immediate aid came to meet the need of health institutions for specialized service cadres with scientific specifications and standards, as well as preparing cadres to work in those institutions and supporting the private sector in this field, and developing teaching and student staff in the fields of scientific and knowledge research, which is the scientific balance of the department and other institutions, as well as expanding the horizons of scientific cooperation with the corresponding departments and relevant institutions in order to achieve continuous and high-quality giving and interaction.
Objective
The Branch aims to graduate technical nursing staff capable of providing first aid and nursing care to the individual in emergency and critical cases inside the ambulance immediately and until his arrival at the hospital.
Description of the graduate's work:
The graduate must be qualified to do the following:
• Ambulance all emergency cases and critical injuries inside the ambulance and until he arrives at the hospital.
• Carrying the patient correctly without complicating the injury
• Measuring vital signs to know the health status of the affected patient.
• Perform artificial respiration in case of respiratory arrest.
• Perform a heart massage if it stops.
• Basic cardiopulmonary resuscitation.
• Application of electric shocks with automatic or manual device.
• Giving intravenous solutions of all kinds in the correct ways and according to the patient's need.
• The use of modern medical devices to diagnose the patient's condition and monitor the development of his condition in glucose meters or blood oxygen meters and monitors.
• Use wireless communication devices and respond to wireless messages according to the approved protocols.
• Continuous evaluation according to the patient's health condition and optimal immediate aid according to each development that occurs to the patient.
• Use the ambulance medicines available in the ambulance immediately and in the correct ways.
Contact the Department
immed.dep@ntu.edu.iq