Medical Laboratory Technologies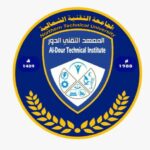 Where the establishment of the department for the academic year 1994/1995 receives students from the graduates of the preparatory school scientific branch (biology) only and of both sexes and is considered one of the main outlets to provide hospitals and health centers with technical cadres in the specialty of pathological analyzes. Students are practically trained in specialized laboratories located at the institute, in addition to training for two months in government hospitals under the supervision of specialized medical staff during the summer training phase in the second phase.
Vision:-
The Department of Pathological Analysis represents an effective way to meet the community's need for specialized cadres in supporting various health, research and educational institutions, in addition to investing the energies of teachers and students in theoretical and applied scientific research and studies, primary and graduate, as well as training, awareness, health and scientific mobilization and within future foundations in line with modern developments through the acquisition of high technical and professional expertise and harnessing them scientifically and academically according to an advanced methodological perspective.
Mission: –
The Department of Pathological Analysis was established according to the community's need for specialized service cadres with scientific specifications and modern technical standards and preparing those cadres to work in various health and research institutions as well as supporting the private sector, noting that the department has a clear future message with high ambition that seeks to provide the finest services and develop teaching staff and students in the fields of scientific and knowledge research and the opening of graduate studies The university's specialized balance, as well as community services and expanding the horizons of scientific cooperation with the corresponding relevant departments in order to achieve integration
Objective:-
The department aims to graduate technical staff capable of working in medical laboratories, conducting routine laboratory analyzes, general chemical examinations, checking liquids, operating and maintaining laboratory equipment.
Graduate job description: –
A graduate of this specialty is qualified to do the following work.
1.Performs laboratory work related to isolation, staining, examination of germs found in clinical samples
2.It prepares and sterilizes all agricultural environments and examines food for food contaminants.
3.He performs all analyzes and tests related to blood.
4.Performs diuresis and exit tests and various body fluids (knee fluids, spinal cord fluids, expectorants, semen)
5.He prepares histological slides of various organs of the body and prepares them for examination.
6.Prepares all laboratory solutions
7.Operates and maintains medical laboratory equipment used in pathological analysis laboratories
8.Performs work on laboratory inquiries, including receiving forms, blood drawing, directing the patient, delivering results, as well as doing warehousing work for medical laboratory stores