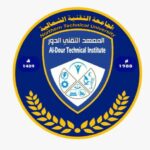 It is one of the new medical departments and was established in the academic year 2018/2019, the department receives students from graduates of the preparatory school, the scientific branch (biology) only and of both sexes and is considered one of the main outlets to provide hospitals and health centers with technical cadres in the specialty of artificial limbs industry. Students are practically trained in specialized laboratories located in the institute in addition to their training in government hospitals under the supervision of specialized medical staff.
Objective
    The department aims to graduate qualified technical personnel with knowledge and skills to manufacture all kinds of limbs and supports.
Department message:
The department came to meet the need of health institutions for specialized service cadres with scientific specifications and standards, as well as preparing cadres to work in those institutions and supporting the private sector in this field and developing teaching and student staff in the fields of scientific and Cognitive Research, which is the scientific asset of the department and other institutions, as well as expanding the horizons of and constant, high-quality interaction.
Objective:
The Branch aims to graduate technical nursing staff capable of providing first aid and nursing care to the individual in emergency and critical cases inside the ambulance immediately and until his arrival at the hospital.
Graduate job description:
Prepare all the materials that are used in the manufacture of upper and lower limbs.
Operation and maintenance of devices, equipment and machinery used in workshops.
Manufacturing of prosthetic and orthopedic substitutes for the disabled.
Training the disabled to use alternatives.
Contact the Department 
parties.dep@ntu.edu.iq