Department of Accounting Techniques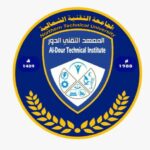 The department was established in 1988, and the department receives students from the graduates of the preparatory school and the branches (applied and biology), literary and commercial and of both sexes and aims to prepare middle administrative cadres in the field of accounting and students are trained in various state institutions, specifically in their accounting departments.
Vision
Upgrading the accounting profession in line with the rapid economic development by achieving a high level of creativity and excellence, and to serve all sectors of the economy, and the department occupies a leading position in academic and professional accounting education and research at the level of Iraq, through the adoption of standards issued by the International Accounting Standards Board (IFAC) in the field of accounting education, and the technical standards it issues, in addition to strengthening the role of the department to develop theoretical and applied knowledge in accordance with scientific, ethical, social and cultural standards of society.
Mission
The mission of the department is summarized in the following points:
1- Enhancing the role of the accountant in achieving economic development with his impartial and supervisory role in the completion of business.
2- Upgrading the accounting profession, creating a scientific environment that sponsors accounting research, and providing the labor market with graduates who have professional and academic knowledge, abilities and skills, and have ethical values that enable them to face the challenges posed by the changing business environment by innovating accounting programs, preparing research and seeking to establish an effective relationship with the business environment and the accounting profession.
3- Preparing qualified accountants for a successful career in the private and public sectors by providing interactive student-based e-learning that encourages entrepreneurial spirit.
Objectives
1-effective use of educational technologies to achieve the educational outputs of the program.
2-meeting the needs of the labor market for qualified human resources in the field of accounting and legal auditing.
3-contribute to the development of the best methods of education in the field of accounting.
4-ensuring the highest levels of compatibility between educational outputs and the skills required by the labor market.
5-preparing qualified cadres suitably and adequately qualified to bear the responsibility of the burdens of the profession as accountants or auditors in the government sector or the business sector based on the needs of society.
6-raising the level of teaching performance in line with the requirements of the department in the future by attracting outstanding scientific competencies.
Core values
   Urging the student to adhere to the core values and maintain the rules of professional conduct such as honesty, integrity, transparency of accounting work, maintaining customer secrets, and considering the accountant as an essential element in the elimination of financial corruption.
Contact the Department
eco.dep@ntu.edu.iq