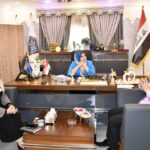 The President of the Northern Technical University performs her work duties from her office, Kirkuk, and meets the deans of university sections in Kirkuk.
2023-07-24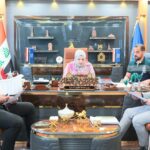 The Central Production Activities Committee holds its periodic meeting..
2023-07-26
Northern Technical University is organizing a symposium on reducing deviation, corruption, and religious, intellectual and moral extremism movements.
Based on the directives of the Minister of Higher Education and Scientific Research on immunizing our society from deviant ideas and under the guidance and patronage of the President of the Northern Technical University, Professor Dr. The symposium, whose interlocutor was moderated by Dr. Muhammad Fadel, Dean of the Medical Technical Institute, Mosul, dealt with the dangerous social dimension in the deviation of ideas and extremism in them to the extent that leads to the destabilization of societal peace. In the symposium, Sheikh Dr. Amer Al-Assaf M. Islamic Guidance Division in the Sunni Endowment Office spoke about the dangers of publications that go out on social networking sites without censorship, which has become accessible to young people and made us, as a society, open to different societies with different ideas and ideologies that may not be compatible with our religious and moral understandings He also raised the issue of human instinct, which makes the individual denounce and denounce everything that is out of the ordinary, such as the abnormal ideas of homosexuals and extremists who offend divine religions. His Eminence Sheikh stressed the need to return to the social and religious legacies in which our society was established in order to combat the movements of religious, intellectual and moral extremism and to inculcate values and principles in the thought of young people in order to advance the intellectual level of society and protect it from all kinds of deviations.
It is worth noting that the President of the University has developed a special strategy to follow up and combat deviant ideas and negative phenomena, which it is hoped will be implemented during the new academic year.