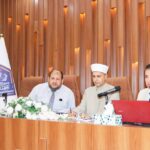 Northern Technical University is organizing a symposium on reducing deviation, corruption, and religious, intellectual and moral extremism movements.
2023-07-26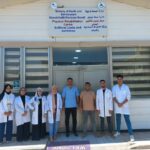 متابعة التدريب الصيفي لطلبة قسم تقنيات الأطراف الصناعية من المعهد التقني الدور في دائرة صحة نينوى
2023-07-31
The Central Production Activities Committee holds its periodic meeting..
---
The President of the Northern Technical University, Prof. Dr. Alia Abbas Ali Al-Attar, chaired a periodic meeting of the Central Production Activities Committee in the presidency of our university, in the presence of the Assistant President of the University for Scientific Affairs, Assistant Professor Dr. Omar Rafi Mahmoud, and Mr. Assistant to the President for Administrative Affairs, Professor Dr. Danoon Younes Danoon. The meeting also included the directors of the departments (administrative and financial affairs – control and internal auditing – scientific affairs – and legal affairs), and the official of the university's secretariat division. During the meeting, the minutes of advisory and scientific offices in the university's faculties and institutes were discussed, and the necessary decisions were taken in accordance with the laws in force.