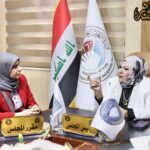 From our dear governorate of Nineveh to our dear governorate of Salah al-Deen…
2023-09-14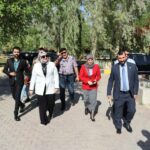 The first inspection visit of the University President to the College of Health and Medical Technology/Al-Door.
2023-09-17
The President of the NTU meets the ministerial committee for establishing medical departments…
Out of Her Excellency's keenness to cope with the progress of the work, the President of the University, Prof. Dr. Alia Abbas Al-Attar, received the Ministerial Audit Committee to review the reality of the medical departments in the Technical Institute Al-Door (Department of Pharmacy), in the presence of Assistant Professor Dr. Maha Altaif Jassim / Dean of the Institute, and the assistants. She was grateful to them for coming across the road. The committee was headed by Dr. Ahmed Jassim Mohammed.
The committee undertook an inspection tour, in which the Dean of the Institute and the Administrative Assistant accompanied them to the administrative side of the above department, the study halls, and the specialized scientific laboratories to ensure the availability of human and material requirements, and to met the teaching staff there.