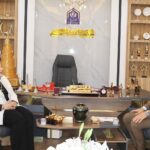 The President of the NTU meets the ministerial committee for establishing medical departments…
2023-09-14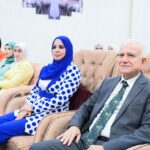 Northern Technical University organizes a workshop entitled Elections and Women's Participation between Reality and Aspiration…
2023-09-17
The first inspection visit of the University President to the College of Health and Medical Technology/Al-Door.
After begining the work in her office in Salah al-Din, and in order to review the most minute details of the work to ensure its progress, the President of our dear university, Professor Dr. Alia Abbas Ali Al-Attar, visited the Health and Medical Technical College / Al-Door, and she was received by Asst. Prof. Dr. Maqsoud Adel Mahmood, Dean of the College, Asst. Prof. Dr. Maha Altayef Jassim, Dean of Al-Door Technical Institute. During the tour, Her Excellency was briefed on the progress of work in the college and the preparations to receive students in their new academic year, and the readiness of the scientific departments and the curricula that will be adopted.
With warmth and joy, the members of the college welcomed the President of the University, wishing her success in serving the educational process. During her meeting with the members, Her Excellency addressed everyone, with words filled with confidence that they had a high level of responsibility for the success of the step of establishing the college, and she motivated them to work sincerely and tirelessly in the service of our pioneering university and our dear Iraq, and she promised Her Excellency aims to overcome all the difficulties facing them.
At the conclusion of the visit, Her Excellency instructed the necessity of extending bridges of cooperation between the newly established college and the existing Technical Institute, so that they would be an idle to be followed in cooperation and science in Saladin Governorate.