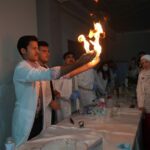 part of the second day of Nineveh Entrepreneurship Forum Sahar Alkimya' Exhibition organized by the Division of Safety and Chemical Security and the Department of Information and Government Communication.
2023-11-16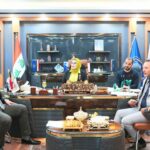 Central Productivity Events Committee Holds Regular Meeting
2023-11-16
Northern Technical University Hosts Workshop on Fire Safety: A Permanent Threat to Lives and Assets
Under the guidance of Dr. Aliaa Abbas Ali Al-Attar, President of the Northern Technical University, and the supervision of Dr. Omar Rafie Mahmoud, Assistant President for Scientific Affairs, the Department of Safety and Chemical, Biological, and Radiological Security, the Department of Media and Government Communication, and the Civil Defense Department at the University Presidency, in collaboration with the with the Nineveh Civil Defense Directorate, organized an extensive workshop titled "Fires: A Permanent Threat to Lives and Assets," under the slogan "Together Towards a Disaster-Free Secure Society."
The workshop aimed to:
* Shed light on the significant causes contributing to the increasing number of fires in Iraq, surpassing one hundred thousand incidents in the past three years, including the recent tragic incident at Al Hamdaniya Wedding Hall.
* Formulate recommendations to be disseminated to government entities in collaboration with the Civil Defense Directorate, including:
1- The obligation to provide high-quality alarm and firefighting systems.
2- Adherence to refraining from using flammable building materials.
3- Strict enforcement of substantial financial penalties against violators of these regulations.
Distinguished speakers at the workshop included:
– Dr. Samaa Adnan Raouf, Head of the Department of Safety and Chemical, Biological, and Radiological Security.
– Mr. Osama Mohammed Jaber, Deputy Director of the Ramah Factory.
– Engineer Hassan Mohammed Saeed Romeih from Ajax Company.
Additionally, a specialized exhibition showcasing the latest technological advancements in alarm, security, and firefighting systems was conducted by Mosul Eye Company, presented by Engineer Abdulrahman Ismaeil Abdul.