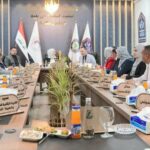 The Council of Northern Technical University held its first session for the morning study program for the academic year 2023-2024 at the College of Agricultural Technology, Mosul.
2023-09-10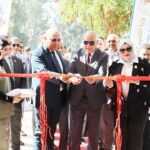 Northern Technical University in Service of the Community…
2023-09-10
Northern Technical University hosts the honorable members of parliament from Nineveh Governorate…
In support of the ongoing developments that align with our Northern Technical University's mission and as a renewal of their support for the university, Mr. Muzahim Al-Khayyat, Chairman of the Parliamentary Education Committee, and Dr. Majid Shingali, Chairman of the Parliamentary Health and Environment Committee, visited Northern Technical University. They were received by the University President, Prof. Dr. Aliya Abbas Ali Al-Attar, and the Vice President for Academic Affairs, Associate Prof. Dr. Omar Rafee Mahmood, along with the deans of the university's colleges and institutes.
During the meeting, various matters were discussed that serve the university's interests, and they praised the recent developments that have swiftly occurred at the university. They reiterated their unwavering support for our university and its leadership in all aspects.