The President of the Northern Technical University assigns the advanced staff in the College of Engineering of Oil and Gas Technologies developed in Kirkuk…
2023-08-27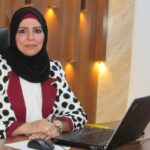 The launch of a course on Total Quality Management System at Ninawa Technical Institute…
2023-08-29
Northern Technical University has entered into a cooperation agreement with the Human Generation Triangle Organization…
In light of the efforts of Dr. Aliaa Abbas Ali Al-Atar, President of the Northern Technical University, to serve the community and to establish a splendid strategic partnership aimed at supporting local agricultural production for small and medium-sized projects, our university's president has signed a cooperation agreement with the 'Human Generation Triangle' organization, funded by the French Agency for Development (AFD).
This partnership aims to organize innovative exhibitions that enhance local production and support small and medium-sized producers. The organization will finance and provide the necessary resources for organizing the exhibitions, while the university will manage these events in a manner that serves our community and contributes to the development of local products.
This step is part of the university's efforts to support local projects and enhance its performance to meet the changing needs of the labor market. We are committed to providing all the support and resources for local producers, and we seek to develop their capabilities and empower them for effective participation in the local economy.