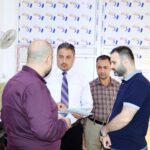 Follow up on the work of the registration committees for the year 2023-2024
2023-11-07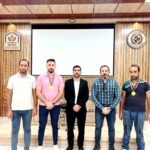 Conclusion of the chess tournament for members of the Agricultural Technical College.
2023-11-08
Mosul Technical Institute Hosts Symposium on Role of Islamic Rhetoric in Counterterrorism
Under the auspices of Prof. Dr. Alia Al-Attar, the Rector of Northern Technical University, and the supervision of Asst. Prof. Shahla Abdul Wahab, The Dean of Mosul Technical Institute, the Psychological Guidance Unit conducted a symposium entitled(The Role of Islamic Rhetoric in Counterterrorism).
It aimed at giving solutions on how society could be immunized against terrorism, explaining the relationship between radicalism, extremism, terrorism and violence. And explaining the direct causes behind the rise of intellectual extremism.
Recommendations:
The need to innovate Islamic Rhetoric to meet the needs of the people and the demands of the times.
• Adherence to Sharia law and religious precepts, as well as urging others to do the same.
• Avoid radicalism and intellectual extremism; • Make moderation and mediation a way of life that gets us closer to safety.