Job opportunities
2023-11-07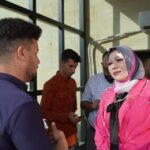 Follow-up by the President of the Northern Technical University on the transactions of students admitted to the University College and its institutes in the presence of the Assistant Chancellor of the University for Scientific Affairs
2023-11-07
"Empowering Woman From Secure Technology" Seminar By Woman Empowerment Unit
Under the auspices of Dr. Alia Al-Attar, the Rector of Northern Technical University, and the supervision of Asst. Prof. Shahla Abdul Wahab, the Dean of Mosul Technical Institute, the Woman Empowerment Unit organized a seminar entitled (Enabling Woman From Secure Technology).
defining safe technology and describing how women use it.
The recommendations were:
1. Giving women the freedom to use secure technology to advance their cultural, social, and economic standing.
2. Protecting women's privacy when utilizing secure technology by turning on two-factor verification, refraining from sharing private images, and avoiding chatting with random users on social media.
3. When using mobile devices or PCs, avoid clicking on suspicious or fraudulent links and advertisements, and update your operating systems and applications regularly.
4. Digital attacks and electronic blackmail can be decreased by utilizing safe technology and adhering to the preceding guidelines.