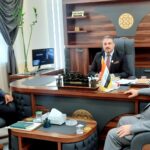 A delegation from the Nineveh Agriculture Directorate visits the Agricultural Technical College
2023-10-14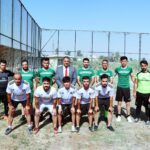 The College of Agricultural Technology organizes a five-a-side football tournament for students.
2023-10-17
A stand in solidarity for our brothers in Palestine
In response to the call of His Excellency the Minister of Higher Education and Scientific Research, Dr. Naeem Yasser Al-Aboudi, the President of the Northern Technical University, Professor Dr. Alia Abbas Ali Al-Attar, invites the university's employees and students to stand in support of our people in Palestine tomorrow, Sunday, 10/15/2023.
Ten o'clock in the morning at the Rashidiya site..